12th Scale Stockcar
SATURDAY 14th FEBRUARY 2009 - URMSTOM
The main news is that after a wonderful Xmas gift I now own my own car!!! Nice! I have also purchased a power pack to go along with a donated charger. I am up and running on my own!!! haha. I have had made a steady start to 2009 with quite a few meetings under my belt. I am learning how the car goes together and how to prepare it ready for meetings. There is a little more to do than the slots - but I am finding the 12th scale car easier to work on. I have also been upgraded to yellow.

The car is running well - I had been steady but had a niggling reception issue that started back in late 08. This culminated in the car going full on at the end of the bends with me rattling round the fence. This was happening randomly during meetings and was starting to get frustrating. At the last Urmston meeting the car went full tilt in to the wall at the end of the straight - a quick thinking Carl grabbed the car to avoid serious damage. This was 15 mins before my first heat!! Dunc surveyed the car and some quick checks identified the servo being faulty - this was changed and the car was raced in my first heat untested.

I got 57 laps in this heat - one of my highest counts. I was well pleased! The rest of the meeting saw consistent laps and I had qualified for the final for the first time for a while. I was rewarded with 5th out of 7 which wasn't bad!! I was pleased with this against the best in the club.

I have also joined the league of bangers - a spare Dunc car has been sourced and I am having a lot of laughs in this formula. The rules are simple, crash and have fun. No fielding, if you roll you are out until (and if) you are re-wheeled, if you go out of the track you are out. In my first meeting I was going well, until the final when I was dumped off the track on the first bend!!! haha. 2nd time out I was a little better, even managing to put somebody else off the track. Last meeting at Urmston it was quiet for bangers- not as many drivers out - still a lot of fun though.

Keep checking the site for updates.

Enjoy JON
TUESDAY 6th DECEMBER - Biddulph Moor
Myself and Duncan headed out to Biddulph Moor (Staffordshire) for a night of 12th scale racing. This would be my 2nd outing on the unique Biddulph track (see pics) and we were both looking forward to the racing. It was a frosty evening - but there was a warm welcome at the Biddulph club. Trackside was quite full - and we squoze in to a table and set up - just as heat 1 hot rods were on.
I love the track at Biddulph - it has tight corners and wider straights - the bends are shaped slightly different along with an angular outside fence. Its unforgiving and needs concentration and consistency to keep away from the fence. The track makes for a lot of contact and spinning - and in my case crashing!! I had a quick practice to shake down the car - it felt good. No car changes were made from the last Urmston meeting. The car was turning and had plenty of grunt in the straights.
Race 1 - Myself and Dunc were placed in heat 2 stock cars, along with Rugby visitors the Harding brothers - both very experienced racers, Ben being National and British champ. First time I had raced with these guys. I was also racing with Alan Crosland - Urmston promoter, another first for me! I made a steady start - but around 5 laps in to it the car died - Dunc was also out (with a burnt speed board) so he had a look at my car. I had steering, but no throttle - the receiver connections were checked and I was back up and running - for about 3 laps anyway! Any contact and the car died. I came off to avoid damaging the car further and getting in the way and spoiling other drivers race. I had also chunked a rear tyre - I fixed that in the break.
Race 2 - During the other races Dunc had checked my receiver all looked ok - we checked the connections for dirt / loose wires. A quick run and away we went. Sadly the car died again - about 5 laps in. As Dunc was still racing - I had a look at the car myself and got it back going - only for it to die again. Again I made the decision to stop and to avoid damage and ruining others racers by being in the way. There is no real outside line at Biddulph - if your not on the pace your in the way! I was a bit gutted as I hadnt got going at all - and the car felt good - but thats racing.
Race 3 - During the break Dunc decided to change the receiver board. We also found a loose wire, but this was the power connection and I didn't have power problems - just no throttle. Anyway - a quick practice and the car was spot on. Dunc joined me for practice and we put a few hits in to test the car. It looked and felt ok. I set off - and before I completed a full lap the car died!! Gutted! I managed to steer it in to the inner fence and it was fielded by Carl. He had a look at it and after some diagnosis - I had lost the grub screw on the pinion!!! No drive to the gears - but power to the throttle - the irony! I did manage a few other laps but as soon as the car stopped or I crashed - it wouldn't start again. Car off track! (again!)
I checked my total race laps - 9, 7, 6 - mmm not the best day at the office!! haha
A new grub screw was fitted and I was determined to finish a race!!! The finals were split and myself and Dunc had made the B final. There were only 3 of us in this, but it gave me chance to shake down the car.
B Final - Well would the car last the full race period - thankfully yes it did! I made a good start and took a nice lead, however a few trips to the fence and a good hit knocked me off my stride a little, but I was keeping up the pace. I finished last - but I was only 4 laps off first - not too bad for my first full race!!!! haha
Really enjoyed the meeting - even though we had car problems. I do hope the gremlins stay away when I next race so I can get a good run and complete some races. Mid Jan will probably be the next race meeting for us at Biddulph. Great track - good facilities - warm welcome. Take a look.
JON 92
---
SATURDAY 6th DECEMBER - TOM YARWOOD MEMORIAL TROPHY
I hadnt raced for a few weeks - and was a little rusty.
In practice the car felt good - Dunc and Dan had worked on set up as Dan has used the car in the previous meeting after his had delevoped faults. It was turning alittle to the right - I should have trimmed it up for heat 1 - but didnt.


Anyway heat 1 - the car felt good and I got joint 3rd with 59 laps (I think! - must start to take a pen and paper!) I was racing along with Dunc - who was flying - and I kept up with him for a around 4/5 laps. It was pulling to the right and I was correcting each lap to take the turn - after the race Dunc trimmed it up and I felt much better.

Heat 2 - again the car was going well - I had a bit of agro at the start and must have caught Vince in the action - later on in the race he caught me with some big hits and I lost a little time in the fence. However I had improved my laps with a 60. The car felt better but wasnt perfect.
In hindsight I should have test and checked the car as I found out later I had picked up some damage.

Heat 3 - the car wasnt right it was loose and I lost a lot of time getting in the way of others and getting caught up in scraps and tangles. I'am slowly learning how to control a loose car, but there is nowhere to hide at Urmston, if you ride the fence you get caught in in crashes and you need the speed to keep on the pace and take the gaps.
I lost a lot of laps just getting in the way and it cost me the chance for a final place.
I had a good look at the car during the break and the front axle had worked loose - it was the inside screw that had worked loose and it was effecting how the car handled in and out of the bends.
Dunc sorted this out for me and I was ready for the GN - at Urmston the top qualifiers go to the final and the rest can enter the GN.

GN - The car was right back on the pace, It felt good and I was able to keep up with the reds in this one. Dan was flying though and he really had his eye in - he took a well deserved victory and I was very pleased with 3rd, especially as there were a few reds in this race. Well done dan!

I nipped home at this point - but I later found out that Dunc had won the Tom Yarwood trophy (See picture) with 62 laps - 1 clear of 2nd place. Well done Dunc.

Another great morning - thanks as always to Dan, Dunc and Gary for their help.

JON 92
SATURDAY 15th NOVEMBER - URMSTOM NOVEMBER HANDICAP
Yesterday saw the hosting of the Urmston handicap championship - as it says on the tin, extra laps were awarded to each grade, as a white, I was graced with 15 extra laps.
The car had felt good with the previous meeting at Urmston saw me take my first race win, in an 8 car grand national event, I was well chuffed, both Dan and Dunc had assisted me with set up which showed.
The car was also blessed with a rather wonderful new body shell - signed by Colin Eardley - it looked the biz!!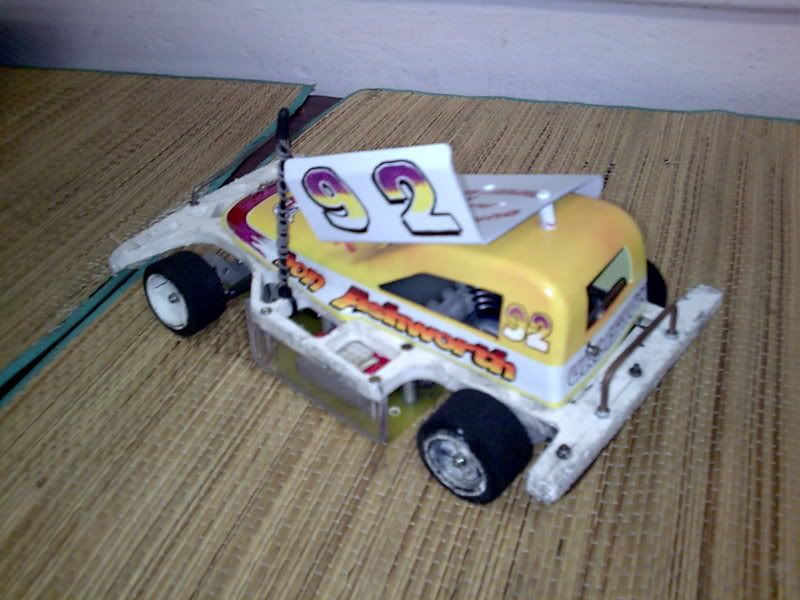 The start of the handicap meeting saw me me a steady start in heat 1, I raced with Dan, who is now from yellow. The car felt good, but sadly I chunked a rear tyre and it went off. With the extra laps I took the win, in real life I was 4th.
For the next heat we had to make some big changes to the car - I had been running on the smaller wheels, which I have been informed are no longer available, so I moved to the bigger wheels which Dan has run for a while.
This altered the car big time with it pushing on and not turning well. We ran out of time to test and I ran it. The car was ok - but the majority of the outside back tyre came off the rim, I was all over the shop!!! I finished last in real life but gained a few places with my extra laps.

Heat 3 - the car was better, Dunc and Dan tried a different tyre and we made a few adjustments - the car felt loads better and was turning well. I plodded round to try and gain laps - I got caught up in a few scraps and finished mid way.

I had made the final - not from my actual laps, but with the extra added laps. Dunc had made it also, sadly Dan had missed out, he had a problem with a motor pinion in his first heat and had lost laps.

I knew I had a chance in this one - the car was going well and was turning, I had to keep out of trouble and out of the way of the big guns who knew they had to bury me to gain laps.
The race was hectic and I suffered from some interference, the car was sluggish on the back straight - but picked up on the home. I got stuck in a few jams but was steady.
In the end I was joint first - it was a dead heat with Anthony Wyper - he kindly agreed I would take the trophy - a wonderful gesture, and even though I hadn't won outright and I had the extra laps, I had taken my first final win! I was well pleased.
I have heard that I might be re-graded soon, which will also be wonderful - but I know I will have to raise my game a bit more.

A massive thank you to Dan for his set up advice on tyres and of course Duncan for the car hire, repairs, body shell and support. Thanks gents!
Next meeting - not too sure - but will update you on here soon.

JON 92
August 2008
Jon moves up to 12th scale radio control stox car.
| | |
| --- | --- |
| | |
| Going well. | Not so well. |
I have been racing slot cars on and off since I was about 7, racing different cars and with different groups. I had heard about the 12th scale racing at Urmston, and it was my friend Dunc who made the move around a year ago to have a go at the bigger radio controlled class. I had thought about having a go for a while, but was worried about the learning curve and the damaging which I thought, were fragile cars.

Anyway Dunc gave me an offer I couldn't refuse, access to his spare car, ready to run, just my subs and damage to pay for. Sounded good!

So on Saturday 9th August I turned up at Urmston to have a go - I was really nervous, but quickly was made welcome by the group and the man in charge Alan. I was given my car and had a practice, I had already had a quick go many months ago, but now I was actually going race. Straight away it felt so much different than slot racing, however the same basic principles applied, breaking for the bends, getting a rhythm going and trying not to race with others. It felt good - but every so often I would catch the fence and spin it round, but in the whole it felt ok.

I was down for heat 1 - just about to line up - and panic. It wasn't running - help, quickly Dunc took off the body to reveal that the motor wire had snapped, a quick loan of a trigger soldering iron and we were back running. This helped take away the nerves, as I was last car on and suddenly the buzzer went off and the lights went green - I was off and running!

I was in the smaller heat group, but there were 2 reds and a blue with me, plus another white top. I managed 2 laps and then the blues and reds went passed me - I let them go and tried to follow them - straight line I was with them, the bends is where I lost out. My confidence grew which each lap, I did clatter (accidentally) with passing cars, just trying to understand how the car drives. I also noticed the car changed as the race went on - Dunc explained this was down to tyres heating up and giving me more front end grip.
The 4 minutes seemed to go on for ever - the red light and buzzer sounded - race over! A great race in which I had a big smile on my face. A quick check of the lap chart showed me 2nd from last with 53 laps - I was very pleased with that!!

As per the rules - I now had to field a corner, I was issued with a stick and the instructions to separate cars and re right them if required. Luckily not much happened in front of me!! Other fielders had to run around the track assisting cars. A great idea the fielding rule - gets everybody involved in running the meeting. I watched Dunc and Dan race in their heat - it was hectic.

There was a bangers heat, followed by my 2nd heat.

Heat 2 - Went a little better in this one, but came last, however I had managed a few more laps, so that was good. Had a few more bumps and scrapes and I did struggle when I spun in the wrong direction, I was nervous and slow getting myself the right way! Dunc explained this was an area where I was loosing time, but he also explained it is quite an art to get back going quickly and without crashing!

Again I watched and fielded the other heats, Dunc and Dan had a few problems, both stripping gears, luckily these were fixed and they were back going.

We had a small break before my last heat - it was explained to me that I had a chance to get in to the A final as it was down to total laps achieved over my 3 heats, I just needed a consitant heat 3. I was now doubly nervous!

Heat 3 - Steady start but I quickly got in to trouble, tangling with faster cars, and loosing time going the wrong way. I didn't think I had done that well, but overall I had made it to the final - I was well chuffed!

Final Time
Good start in this one - either I was able to run or more likely the reds and blues were getting tangled up, I managed my most consistant laps in this race, I raced with the reds for about 5 laps, having a good battle. They raced really well and didn't wreck me, and I was able to watch and follow them to learn the best lines round the track.
Overall I finished 5th out of 8 - wow! I expected last!

What a great day - I was made really welcome and various members helped me and explained the way it works.

Hopefully I will be racing again soon. Well worth the visit. Have a look yourself.
For more information on Urmston please click here.